Delnor Construction Named One of Canada's Best Managed Companies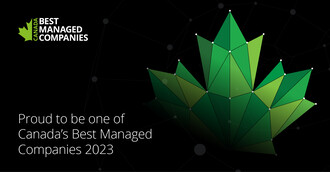 Delnor won its initial Best Managed award in 2019 and has successfully requalified in 2023 to maintain its status as a Best Managed Gold Standard company, making this the fifth year in a row holding the Best Managed Companies designation.
Delnor has been recognized for its industry-leading performance, business practices, and sustained growth by receiving the prestigious 2023 Canada's Best Managed Companies award. The Best Managed Companies were evaluated on their leadership in the areas of strategy, culture and commitment, capabilities, and innovation, governance and financial performance. 
This year, Delnor has been proud to implement many programs and innovations that have allowed us to retain our Best Managed Companies Gold Standard award. We have developed partnerships with organizations to support our efforts to attract and retain employees from traditionally underrepresented groups in Construction, we are in the process of testing various AI opportunities within our business, and we have rolled out Virtual Health Care programs for our employees. These are a few of the initiatives we have spearheaded this year. Delnor has, and will continue to be, committed to pushing the boundaries in the areas of social procurement, diversity, wellbeing, and innovation, ensuring a solid future within the construction industry.
"This year's Best Managed winners displayed courage, resourcefulness, and creativity as they explored new avenues for advancement," said Lorrie King, Partner, Deloitte Private and Co-Leader, Canada's Best Managed Companies program. "We're extremely proud to recognize the impressive achievements of companies such as Delnor Construction in this particularly rapidly evolving business world. Their successes demonstrate the importance of strong leadership and forethought in driving long-term growth."
About Canada's Best Managed Companies 
Canada's Best Managed Companies continues to be the mark of excellence for private Canadian owned and managed companies. Every year since the launch of the program in 1993, hundreds of entrepreneurial companies have competed for this designation in a rigorous and independent process that evaluates their management skills and practices. The awards are granted on four levels:
Canada's Best Managed Companies new winner (one of the new winners selected each year);

Canada's Best Managed Companies winner (award recipients that have re-applied and successfully retained their Best Managed designation for two additional years, subject to annual operational and financial review);

Gold Standard winner (after three consecutive years of maintaining their Best Managed status, these winners have demonstrated their commitment to the program and successfully retained their award for 4-6 consecutive years);

Platinum Club member (winners that have maintained their Best Managed status for seven years or more).
Program sponsors are Deloitte Private, CIBC, The Globe and Mail, Saleforce, and TMX Group. For more information, visit www.bestmanagedcompanies.ca.