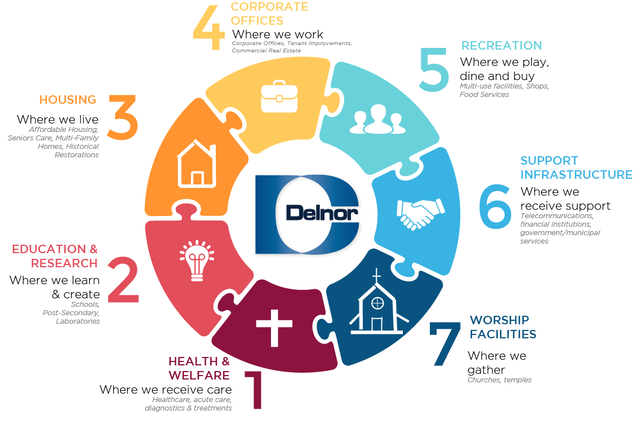 Reflecting over our decades in the business, we express a sense of gratitude that Delnor has been able to and continues to enhance the lives of so many Albertans through the projects that we undertake. Delnor has been growing with Alberta for 35 years and continues to serve its people through all aspects of their life cycle. Delnor meets all of these needs and more in the diverse marketplace of Alberta.
Over the past decades, Delnor has developed a unique Construction Management Methodology that allows us to consistently provide the best value to our clients and make the experience as seamless as possible for all stakeholders involved.
We deliver projects utilizing various procurements models based on the most common construction agreements:
CONSTRUCTION MANAGEMENT
STIPULATED PRICE
DESIGN-BUILD
GENERAL CONTRACTING
INTEGRATED PROJECT DELIVERY
Our "cradle-to-grave" approach to project management ensures that our clients and consultants have one single point of contact throughout the entire process - from tender to project close out. This offers simplistic communication with our team and intimate knowledge of the project with complete accountability from Delnor. It is this formula that has allowed us to develop the wealth of expertise and forge longstanding relationships with some of the largest institutions in Alberta.
Coupled with our commitment to safety & sustainability, and our continuous endeavor to find the best people to manage and execute our projects, our reputation proves that we have developed a formula for success.
Our focus on excellence has given us the opportunity to be a part of projects that are groundbreaking, historic, adventurous, and exciting.
Areas of Focus
Delnor's success and financial stability comes through the diverse markets we serve, as our model is focused on the life-cycle of Albertan's. From healthcare where we receive care to worship facilities where we gather, Delnor services all these needs and more.