Delnor is one of Canada's Top Small & Medium Employers for 2019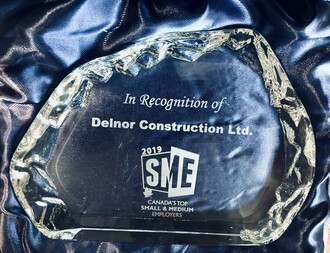 Another milestone has been hit in our 35th year of business as Delnor has been selected as one of Canada's Top Small & Medium Employers
This award comes from an annual competition where small and medium enterprises (SME's) with under 500 employees are recognized as offering the nation's best workplaces and forward-thinking human resources policies.
Competing against hundreds of applicants in industries all over the country, Delnor was selected by succeeding the grueling evaluation of 8 categories such as Training & Skills Development, Health, Financial & Family Benefits, Community Involvement, and Work and Social Atmosphere.
Each year, the winners are published in the national magazine The Globe and Mail and reasons for selection are published on Eluta.ca.
To see Delnor's how we earned our spot as one of Canada's Top Small & Medium Employers (2019), click here.