Ben Calf Robe K-9 Replacement School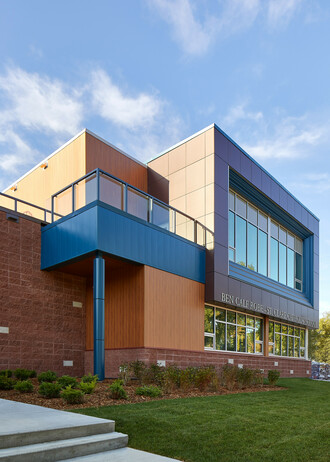 The Ben Calf Robe K-9 Replacement School project was a unique and meaningful ground up build in North Edmonton. With just over 74,000 square feet the project came in at $20 million dollars and boasts a beautiful glass teepee built in the center of the school, with the top of the teepee functioning as a skylight through the roof. 
The new school was built directly beside the existing school and the majority of the construction took place with students and staff on site. With a tight construction site and workspace, the project team opted to purchase a house right beside the project site and designated it as the site office to free up site space. Built during the pandemic, the project team experienced material and manpower shortages, yet was able to deliver this project on budget and just in time for the students to return for the 2022/2023 school year.  
The design and build of this school took into consideration the Indigenous culture and heritage reflected in the neighbourhood. Parents were excited to have a school their children could attend that housed new technology while also reflecting elements of their culture.   
The amount of care and effort put into this project by our project team, BR2 Architecture, and the subtrades to produce a beautifully designed and meaningful school to the community is something Delnor was extremely proud of. 
Check out our project profile of Ben Calf Robe Replacement School for more photos! 
Posted on
October
27
2022