Corporate Announcement: Welcoming Delnor's Four New Principals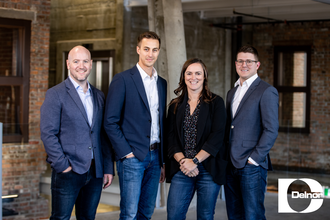 Delnor CEO, Glenn Cyrankiewicz, along with Principals, Jeff Sterling, John Vandenberg, Dave Lamash, and Kaylan Austring, are pleased to announce the addition of four individuals to the Delnor Group of Companies partnership – Megan Rothwell, Ryan Christensen, Jason Deboski, and Yoni Lachterman.
Ryan Christensen – Ryan joins the Delnor Group partnership as a highly regarded construction leader, known for leading some of Edmonton's most innovative and complex projects. Representing the Delnor Group at the Edmonton Construction Association, we are proud to welcome him as a partner.
Jason Deboski – Jason joins the Delnor Group partnership to continue leading Delnor pursuits and preconstruction efforts. As Jason moves into a partnership role, he will transition to our Corporate Project Development Leader.
Megan Rothwell – Megan began her career at Delnor as a project coordinator and now oversees much of our education and post-secondary construction as a Team Leader. Megan brings with her a continuity and steadfastness that is at the heart of the Delnor Group of Companies. Her sought-after influence and leadership will continue to impact our business as she joins the Delnor Group partnership.
Yoni Lachterman – Yoni remains a stable presence in Delnor's leadership and finance department. We are excited to welcome him into the Delnor Group partnership, as he maintains his role as Delnor's CFO.
"As we head into our 40th year we look forward to the continued stability and growth that these four individuals bring to our organization." – Glenn C.
The Delnor Group of Companies is proud to be one of Alberta's leading construction and restoration companies serving the province from its headquarters in Edmonton and branch office in Calgary. We construct and provide restoration services in a variety of public and private sectors and are passionate about the communities we build in as well as the people we build for and with.
Posted on
November
30
2022